We went shopping at my new favourite shop (in addition to Franc Franc, but not as convenient as Franc Franc), which is Crate & Barrel. There's only one outfit in the whole of singapore (at present), which is in Ion. We went to Ion last friday to kaypoh at the Kikki.K post christmas sale items (all the christmas stickers and bags and gift sets etc. were on sale of course – the best time to shop in my book!) and so happened to have dinner at Paradise Dynasty on the top floor. And opposite Paradise Dynasty was Crate & Barrel! It had a really well designed shopfront and pretty affordable everything. I got a Lina Grey vase


and a Madhu leaf placemat


(I've been super into placemats recently because of the food photos I take. I think Amrita will really like this one!)
A set of foggy forest coasters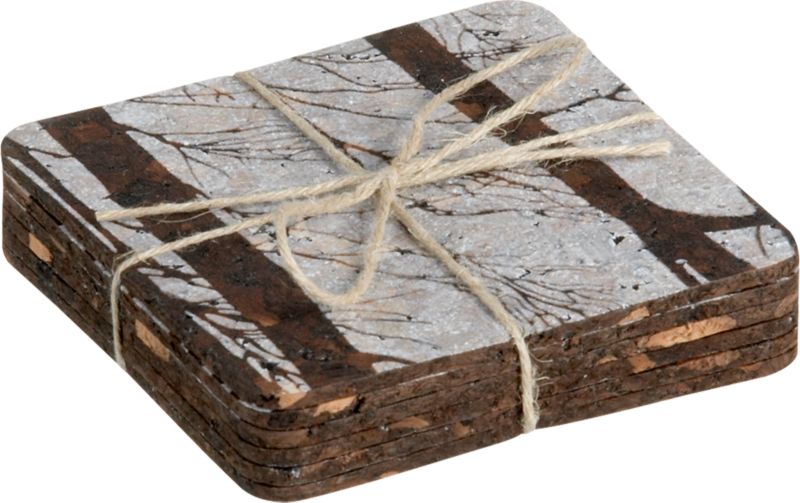 – these are made of cork and tear rather too easily but they look really good and are only $7.50
A Hakkari votive


– the leaf glows gold as it is without a candle inside, but looks better at night with a candle of course.
Anyway last week I saw these really well designed (matching blue) casseroles


and nested Roscoe stone grey bowls and I just had to have them but for some reason we were already carrying a lot of stuff. I think we were bringing Bang! to my house, along with some laundry and Maif's prosciutto :P
So I inquired about delivery and they say they will deliver everything for free if you spend more than $500 on household items. This is not exactly a hard feat by the way. I spent $106 on my first visit there and then $97 on my second, just purchasing those casseroles and grey bowls. I think my future home will have a teal/navy/grey theme, with lots of wood. One of the bloggers I follow on my WordPress Reader did a 2013 review based on how her house was overhauled and it was amazing! The coloring was a bit perky but the wooden laminate floor looks so good. I am big on DIY too, especially for somewhat unskilled/common-sense tasks like painting/stencilling. I can't fix leaky pipes or my wiring (my dad can) but painting I can do. A lot of the people who say it's too much work either have back problems (are old) or do not have the requisite skill/common-sense to paint a wall.
In any case if you spend <$500 delivery is only $50 which is pretty worth it, I think. We decided it would be cheaper to just buy whatever I wanted and then take a cab back to my place, but wound up carrying the pots back to my place last night because they weren't real heavy anyway and we are both young and able bodied.When you are the youngest person in an otherwise octogenarian bell choir and you have to haul all the bell cases in and out of the cupboard all the way in the back of the church, you develop some serious muscles.
I'm extremely happy with my casseroles! Now I can do all those beautiful bakes on pinterest. Taco casserole, lasagna, tuna bake, etc and they are all going to look so good. Not sure what I will use the nested bowls for yet but they are so pretty I couldn't stop myself. Actually they're only $30 in the US but I had to pay about $55 here cause of shipping and stuff.

If you managed to get this far past my Crate & Barrel ramblings, here is yet another hilarious article from the Good Greatsby on 5 tips for managing your mistress :P